Fax:+86 371-67993277
Tel: +86 371-67991755
Sales direct: +86 15838331071
E-mail:sales@battemachinery.com
http://www.gravimetric-feeder.com
24h services
Have you ever bought gravimetric feeder been cheated?
Author:Batte. Click:
Have you ever bought
gravimetric feeder
been cheated?
Gravimetric feeding machine
, a high degree of intelligence, screw form diversification, the screw can be according to the material to choose different types of screw, solve the bridging material. The appearance is smooth and beautiful, with 304 stainless steel material contact parts, easy disassembly and maintenance of various components.
gravimetric feeders, not only incorporates a superior feeder design that makes so much sense it could obsolete all others, but also brings the automation features that drastically reduce capital investment and installation costs.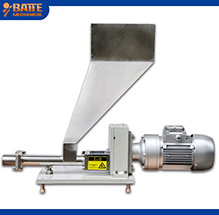 Excellent for metering a variety of powders, granules, chips, flakes, and fibers.
Two available models offer theoretical feed rates from 0.01 to 353 cubic feet per hour (.3 to 10,000 liters).
Complete disassembly from the non-process side.
Key features include:
Conical cornerless stainless steel (Coni-Steel™) feed hoppers.
Maintenance free feed chute for metering dry materials.
Gravimetric and volumetric configurations.
Floor or hanging mount configurations.
Feed accuracies of ± 0.5% or better.
Batte gravimetric feeding machine Can at any time in feeding control precision of + 0.2%, improve production efficiency and reduce labor intensity!
  Feed range:
  40-8000L/H
©2015 Batte Mechanical Zhengzhou Co,.Ltd. All rights reserved. 
sales@battemachinery.com
As a
gravimetric feeder manufacturer
and supplier, Batte exports
gravimetric feeder
products, especially
gravimetric screw feeders
.