Fax:+86 371-67993277
Tel: +86 371-67991755
Sales direct: +86 15838331071
E-mail:sales@battemachinery.com
24h services
batte twin screw loss in weight metering feeder
The batte twin screw loss in weight metering feeder ingredient system is a real-time online dynamic compounding system. Its accurate feeding and evenness can not only greatly improve the consistency of product quality, but also reduce the production of waste products and wastes. It is suitable for pellets, powder and glass Fiber, irregular materials and various additives, widely used in plastic processing (such as plastic extrusion, chemical fiber processing) in the precise ingredients, the accuracy can be controlled to ≤ ± 0.5%, plastic processing is to improve product performance and grade of important protection .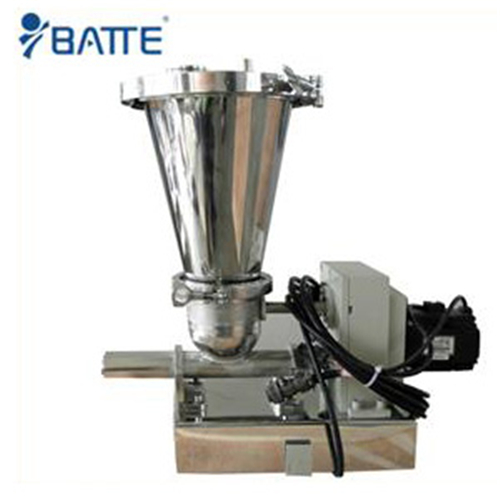 Batte twin screw loss in weight metering feeder using weightless program control module, touch-type man-machine interface centralized control, simple operation, fully automatic operation
Batte twin screw loss in weight metering feeder Process Description
1: set the parameters of the program;
2: Manual feeding to sachet or sack opening and discharging;
3: The vacuum conveying equipment sucks the material from the sack feeding station or the sack opening station to the weighing measuring tank;
4: weighing weighing tank full of material or material weight reaches the set value, the vacuum conveyor equipment downtime;
5: The screw feeding system accurately weighed the material in the weighing tank according to the preset value;
©2015 Batte Mechanical Zhengzhou Co,.Ltd. All rights reserved. 
sales@battemachinery.com
Batte is a
loss in weight feeder manufacturer
, supplying
loss in weight feeder
,
volumetric feeders
, and
metering feeders
.