Fax:+86 371-67993277
Tel: +86 371-67991755
Sales direct: +86 15838331071
E-mail:sales@battemachinery.com
24h services
Single screw gravimetric feeders
Single screw gravimetric feeders
are mounted on a stainless steel scale, and adopts high precise technology. The details of load cell, gravimetric control system, and screw also are shown in the following.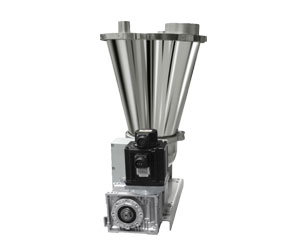 Single screw gravimetric feeders Cell and Gravimetric Control System:
Our weighing module provides slipt second and milligram range performance. It is designed to be used in harsh industrial environment. Equipped with the first class software, our single screw gravimetric feeder can provides consistent, precise, reliable and repeatable results. The gravimetric controller and operation interface allows for individual unit and recipe control.
Gravimetric feeder
has its own control board. The control board and the operation interface are connected by industrial protocol.
The online controller can combine the motor driver with the feeder controller together, and
gravimetric feeder control
is very important. Batte provides extreme flexibility for recipe storage and memory. Up to 8 feeders can be working together simutaneously and be connected to DSC system of the main processing machine.
A high speed and high precise load cell is used in the scale. The scale housing is enclosed totally. All the parts which contact fed materials are made of stainless steel. Single screw gravimetric feeder is easily disassembled for cleaning and changing parts. The hopper can be made symmetrical or asymmetric shape for your choice.
©2015 Batte Mechanical Zhengzhou Co,.Ltd. All rights reserved. 
sales@battemachinery.com
Batte is a
loss in weight feeder manufacturer
, supplying
loss in weight feeder
,
volumetric feeders
, and
metering feeders
.