Fax:+86 371-67993277
Tel: +86 371-67991755
Sales direct: +86 15838331071
E-mail:sales@battemachinery.com
http://www.gravimetric-feeder.com
24h services
Eco-friendly feeding equipment
Author:Batte. Click:
With the feeding machine, feeding equipment such as machinery of continuous evolution, environmental protection and energy saving has become the theme of development in the future, modern technology continue to introduce and used to make the feeding equipment production and processing process can be improved, the feeding equipment industry in China's overall technological capability and the level of production also forward the international first-class level forward.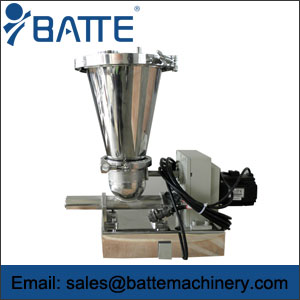 The existing problem of our country is feeding equipment of large water consumption, wastewater treatment capacity, waste water pollution. Therefore, magnetite feeding equipment in gravity separation magnetic separation flotation process in wastewater such as timely treatment and recovery utilization will be for many feed enterprises to reduce production costs. The economic benefit analysis of Danbach in the process of wastewater treatment and reuse. With the method of AlCl3 treatment and recycling wastewater by gravity separation magnetic separation, can create enormous economic benefits for the enterprise to create. The feed wastewater has been treated but also improve the utilization rate of water resources, reduce the waste water emissions, avoid due to wanton sewage emissions caused by social problems, and promote the coordinated development of economy, environment and society.
©2015 Batte Mechanical Zhengzhou Co,.Ltd. All rights reserved. 
sales@battemachinery.com
As a
gravimetric feeder manufacturer
and supplier, Batte exports
gravimetric feeder
products, especially
gravimetric screw feeders
.