Fax:+86 371-67993277
Tel: +86 371-67991755
Sales direct: +86 15838331071
E-mail:sales@battemachinery.com
http://www.gravimetric-feeder.com
24h services
Metering feeder advantages and application scope is what?
Author:Batte. Click:
   Metering feeder with core technology and independent research and development strength, has rich experience in engineering application in a number of fields and industries, this measure feeder has following unique functions and advantages: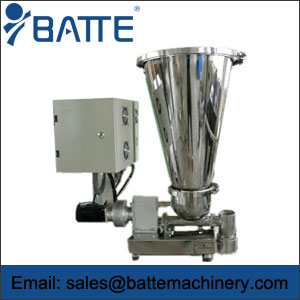 (1) the application of a wide range of raw materials or materials, such as steel, chemical, and mine,Medicine, material, powder, calcium carbonate, talc, resin film powder, etc. can be used;
  (2) Batte metering feeding machinery such as the original screw, easy decomposition, simple assembly, easy to clean;
  (3) Batte technology strength, original technology and equipment, professional pre-sales service team directed;
  (4) the performance of the material is stable, with high precision and the ability of conveying is optional.;
  (5) 0.1% static precision metering feeder system; linear, repetitive dynamic accuracy of 0.3%;
  (6) the control instrument selection of high precision weightlessness balance control device, has the advantages of high precision, strong anti-interference, real-time good; sensor with high precision sensor module, sensors used in laser welding and sealing, has the advantages of high accuracy, the advantages of good reliability, and is particularly suitable for harsh working conditions of field application;
  (7) metering feeder control system is flexible: Batte metering feeder control system can realize the material and supplementary material processing for feeding of manual and automatic control;
©2015 Batte Mechanical Zhengzhou Co,.Ltd. All rights reserved. 
sales@battemachinery.com
As a
gravimetric feeder manufacturer
and supplier, Batte exports
gravimetric feeder
products, especially
gravimetric screw feeders
.