Fax:+86 371-67993277
Tel: +86 371-67991755
Sales direct: +86 15838331071
E-mail:sales@battemachinery.com
http://www.gravimetric-feeder.com
24h services
single screw volumetric feeders
Author:Batte. Click: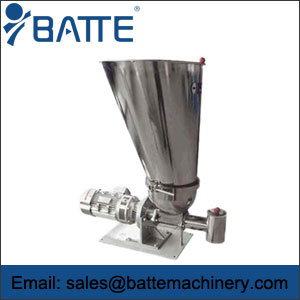 Single screw volumetric feeder according to different materials, there are many different forms of interchangeable screw feeder mounted on a painted steel base, all the contact portion and the material is stainless steel parts, the feeder is easy disassemble and clean or replace parts. Unique patented design spherical bucket, so that the material uniformly flows into the hopper of the screw from the ball in all directions, effectively prevent the accumulation of material, while a horizontal agitation will further improve the material flow to the screw propeller, so that more accurate feed .

Features:
1. Feeding uniform, continuous good performance
2. The flow rate adjustment range, reliable operation;
3. compact, small size, easy installation and maintenance.
Selected according to the material properties of the feed screw for feeding range at both ends, it is recommended to choose the right screw after the test.
pre:
©2015 Batte Mechanical Zhengzhou Co,.Ltd. All rights reserved. 
sales@battemachinery.com
As a
gravimetric feeder manufacturer
and supplier, Batte exports
gravimetric feeder
products, especially
gravimetric screw feeders
.