Fax:+86 371-67993277
Tel: +86 371-67991755
Sales direct: +86 15838331071
E-mail:sales@battemachinery.com
http://www.gravimetric-feeder.com
24h services
Gravimetric feeders
Author:Batte. Click:
Gravimetric feeders
, also called gravimetric feeding, involve dry bulk material being fed into a process at a constant weight per unit of time since weight is a variable that can be captured by a weighing module.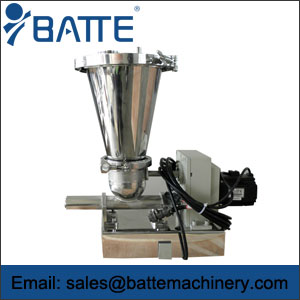 Gravimetric feeders details:
With gravimetric feeding, you can have consistent control and complete monitoring.
Gravimetric feeding involves feeding process monitoring with a feedback loop that produces accurate material feeding control.
Batte offers gravimetric feeders through its proprietary Vibratory Feeder.
This loss-in-weight system provides gravimetric feeding for varying density, material handling automation, long term accuracy, and repeatability.
Batte's Loss-in-Weight Gravimetric feeding system is also great for when dust control is a possible issue.
Batte also offers weigh belt feeders for gravimetric feeding through its parent company Carolina Material Technologies.
In addition to gravimetric feeders, Batte also supplies Loss-in-Weight Feeders, Gain-in-Weight Feeders, Vibratory Feeders, Volumetric Feeders, Continuous Feeders, Weigh Belt Feeders, Mass Flow Feeding, Dry Material Feeding, etc.
©2015 Batte Mechanical Zhengzhou Co,.Ltd. All rights reserved. 
sales@battemachinery.com
As a
gravimetric feeder manufacturer
and supplier, Batte exports
gravimetric feeder
products, especially
gravimetric screw feeders
.