Fax:+86 371-67993277
Tel: +86 371-67991755
Sales direct: +86 15838331071
E-mail:sales@battemachinery.com
http://www.gravimetric-feeder.com
24h services
High Precision Gravimetric Powder Dosing Feeder
Author:Batte. Click:
Application: Production of raw materials/ plastic modification/ chemicals & plastic films/ cables/ pipes
Gravimetric Powder Dosing Feeder Technical features:
1 Unique design
2 Servo control and screw feeding adopted
3 Anti-brige structure
4 Automatic feeding for material.
5 System feeding/dosiing precision:+/- 0.5%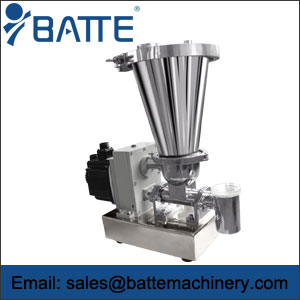 The system is installed on an extruder to measure and calculate the weight per meter and extrusion output, and also make automatic control, which realize the constant meter weight and (or) extrusion output and make it running at set values.
©2015 Batte Mechanical Zhengzhou Co,.Ltd. All rights reserved. 
sales@battemachinery.com
As a
gravimetric feeder manufacturer
and supplier, Batte exports
gravimetric feeder
products, especially
gravimetric screw feeders
.