Fax:+86 371-67993277
Tel: +86 371-67991755
Sales direct: +86 15838331071
E-mail:sales@battemachinery.com
http://www.gravimetric-feeder.com
24h services
plastic pvc extrusion mould
Author:Batte. Click:
High Quality Plastic PVC WPC Profile Extrusion Mould, PVC Mould, Plastic Mould, UPVC Profile Mould
1. Using the overall flowing path core support structure
2. Using the removable locating pin devices;
3. The channel design has avoided the dead area and retention
4. The optimized design of the flowing channel gives it a stronger impact resistance .
5. The inside and outside surface of the profile is smooth and without scratches
6. Easy to assemble and disassemble.
7. The mould has high stability and high extrusion speed.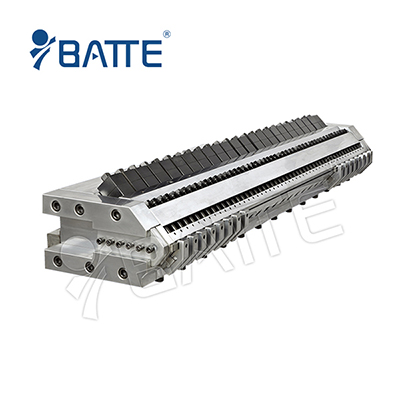 Our company can often faster, cheaper prices and better quality services to impress customers. For us, the customer is God. We will find ways to accomplish the various needs of customers. In the production of PVC Extrusion Mould we strive to never turn a blind eye to some small flaws. We strive for excellence; our pursuit of perfection.
©2015 Batte Mechanical Zhengzhou Co,.Ltd. All rights reserved. 
sales@battemachinery.com
As a
gravimetric feeder manufacturer
and supplier, Batte exports
gravimetric feeder
products, especially
gravimetric screw feeders
.