Fax:+86 371-67993277
Tel: +86 371-67991755
Sales direct: +86 15838331071
E-mail:sales@battemachinery.com
http://www.gravimetric-feeder.com
24h services
batte Twin screw weightless feeder
Author:Batte. Click:
Suitable material powder, fiber and pellet (bulk density 0.7)
Describes the use of spherical hopper, hopper.:40L, 1.1 KW 380V AC motor, Delta inverter speed regulation, Danbach original controller dbh-01 to ensure high feeding accuracy, standard power supply: 380V, 3-phase, 50 Hz
Twin screw weightless feeder Feeding range: 40-100 L/ H
Twin screw weightless feeder Feeding accuracy: + 0.5%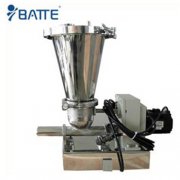 Our company produces a variety of products, with unique advantages for you to provide twin-screw weightlessness feeder is equipped with a feeding part installed on the weighing table, the material of the weighing table is stainless steel, the weighing table is completely closed to prevent the entry of materials, all contact parts with materials are made of stainless steel, feeding part is convenient Remove, easy to clean and replace.
©2015 Batte Mechanical Zhengzhou Co,.Ltd. All rights reserved. 
sales@battemachinery.com
As a
gravimetric feeder manufacturer
and supplier, Batte exports
gravimetric feeder
products, especially
gravimetric screw feeders
.