Fax:+86 371-67993277
Tel: +86 371-67991755
Sales direct: +86 15838331071
E-mail:sales@battemachinery.com
http://www.gravimetric-feeder.com
24h services
the performance of vacuum feeding machines superior to traditional ones
Author:Batte. Click:
What are the performance of vacuum feeding machines superior to traditional ones?
With the rapid development of science and technology in China, it is necessary to add raw materials to equipment in many industrial production processes. Therefore, during the feeding process, it was done manually in the past. But with the continuous development and development of feeding technology, vacuum feeder developed after the use of the domestic industrial field is the most extensive, especially in the feeding efficiency is superior to the traditional feeding mode. Therefore, after the birth of the feeding equipment, it will still have an advantage in its technology. So, in what aspects of performance than traditional loading process?
First of all, the vacuum feeder equipment in the ordinary process of feeding can be added baffle, so that it can increase the amount of feeding, then its industrial production process to achieve efficient and efficient production mode. Therefore, after the introduction of the equipment in the industry, found that its function will still be more prominent first-class, in terms of design or more professional and advanced, reached the first-class level in performance, in the promotion process is still trustworthy. In the domestic market sales process, you will find that the performance and technical advantages of the material will be more advanced.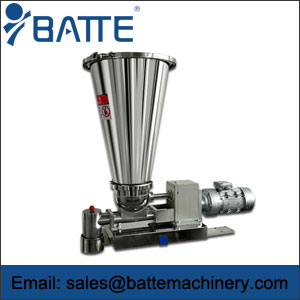 Of course, the structure design of vacuum feeder is relatively simple, once the problem encountered, then in the maintenance process is relatively simple, in its details will be more specialized, in different environments when loading is still more professional, and in efficiency has been relatively high From the design point of view, the cost performance of the charging equipment will be higher and higher.
©2015 Batte Mechanical Zhengzhou Co,.Ltd. All rights reserved. 
sales@battemachinery.com
As a
gravimetric feeder manufacturer
and supplier, Batte exports
gravimetric feeder
products, especially
gravimetric screw feeders
.