Fax:+86 371-67993277
Tel: +86 371-67991755
Sales direct: +86 15838331071
E-mail:sales@battemachinery.com
http://www.gravimetric-feeder.com
24h services
Micro single screw weightless feeding machine
Author:Batte. Click:
A high-precision weightless feeding scheme designed for small spherical, granular, fluidity powder and other bulk materials.
All parts of the batte weightless feeder are made of stainless steel. A unique spherical bucket and horizontal mixing design are used to fill material on the screw. The micro feeder uses DC motor to achieve more precise screw speed control and can operate at ultra-low 2-30 L/hr flow rate.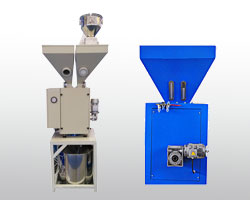 High precision weighing technology
Batte has brought high-precision weighing technology to its high value-added weighing feeder. The micro single screw weightless feeding machine is installed on the small scale platform, and uses a high-speed and high-precision sensor. The material is stainless steel, and the shell is sealed with sensors to prevent the weighing of materials from entering the weighing platform.
The weighing module of the feeder provides you with less than second, milligram range, high precision weighing, and can be used in harsh industrial environment.
Control technology of excellent weighing feeder
With the support of the patent software developed by foreign parent company, batte micro weightlessness feeder provides a continuous, accurate, reliable and reusable feed solution for you. The weighing controller and operation interface allow separate control and integrated control, and each feeder has independent control panel. The control board and the operation interface are supported by Industrial Protocol.
©2015 Batte Mechanical Zhengzhou Co,.Ltd. All rights reserved. 
sales@battemachinery.com
As a
gravimetric feeder manufacturer
and supplier, Batte exports
gravimetric feeder
products, especially
gravimetric screw feeders
.